Summer School on Process Mining
conference room
Presented by Wil van der Aalst and Josep Carmona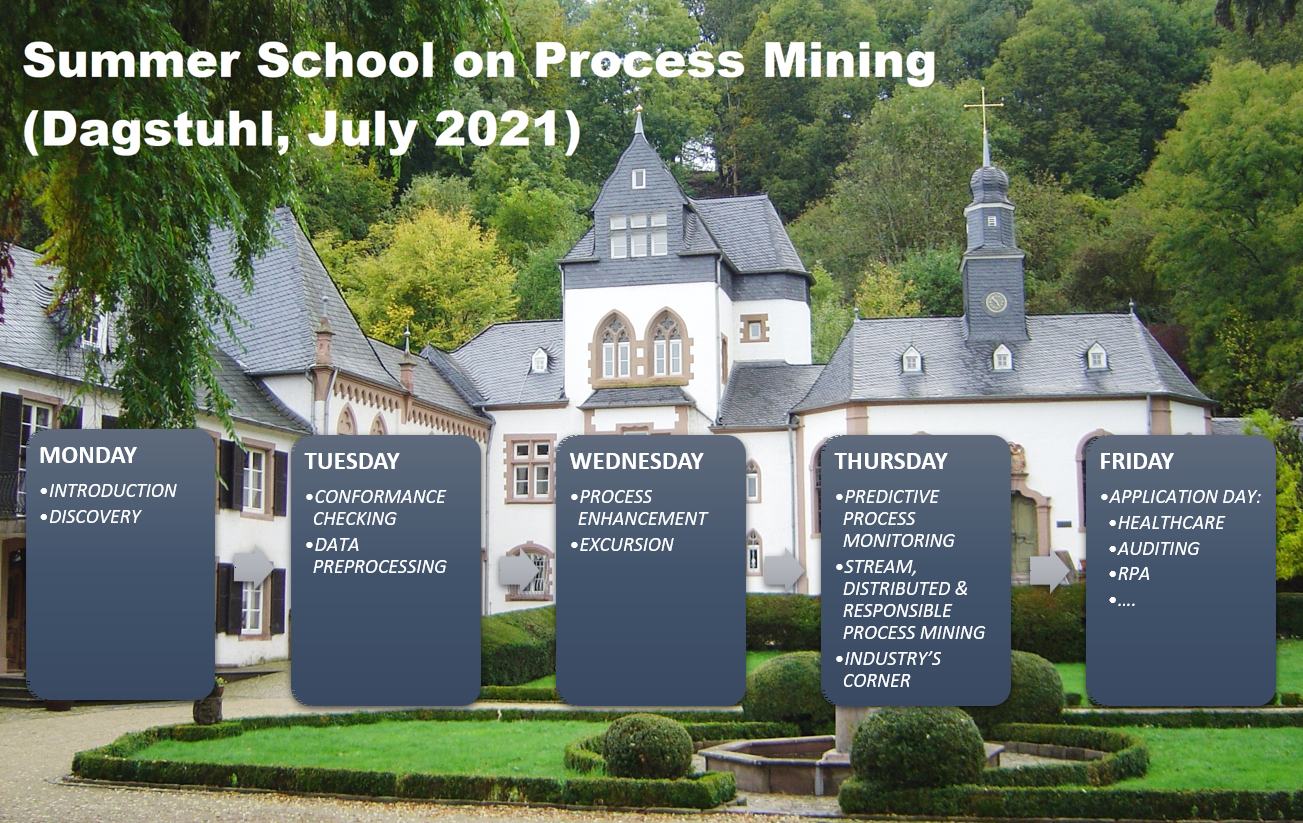 The first Summer School on Process Mining organized by the IEEE Task Force on Process Mining will take place in Dagstuhl (Germany) from July 4th until July 9th, 2021. Be sure to mark these dates in your calendar!
Monday 5 July
Tuesday 6 July

Conformance Checking
Data Preprocessing

Wednesday 7 July

Process Enhancement
Excursion

Thursday 8 July

Predictive Process Monitoring
Stream, Distributed & Responsible Process Mining
Industry's Corner

Friday 9 July

Application Day:

Healthcare
Auditing
RPA
and more…
The course will be given by renowned experts in the field. Wil van der Aalst and Josep Carmona are the course directors, and the event is supported by the Alexander von Humboldt Foundation and RWTH Aachen University. The course will take place in Schloss Dagstuhl, a beautiful castle with excellent facilities for such a summer school.
Young researchers (such as PhD students and Postdocs) are the primary target audience, but the school will also be very interesting for practitioners, students, and senior researchers. The summer school will have introductory lectures and lectures focusing on applications in healthcare, auditing, and robotic process automation. Moreover, different process discovery and conformance checking techniques will be presented in detail. Lectures on data preprocessing, data quality, performance analysis, predictive analytics, and responsible process mining will complete the picture. Next to the lectures, there will also be hands-on sessions with (open-source) process mining tools.
An overview of the week program is shown in the diagram on the right. We expect the school to be overbooked, given the limited capacity of Schloss Dagstuhl. More details will be provided at ICPM 2020. For further information, visit http://www.process-mining-summer-school.org/ and follow @PrMiningSchool.
Articles in this newsletter
Info about this article
This article has been updated on October 6 2020, 19:48.
Presented by Wil van der Aalst and Josep Carmona