End-user's corner: Jan Felde
end-users corner
An interview with Dr. Jan Felde
Dr. Jan Felde is an audit manager in the corporate audit department of a multinational technology and service provider for the construction and energy industries. He shares with us his experience and thoughts on process mining from the viewpoint of his professional life. Views expressed in this interview are personal – they do not purport to reflect the opinions of views of Jan's employer.
Jan, where and when did you first hear about process mining?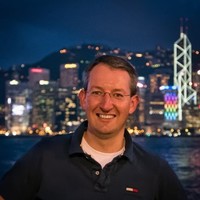 Our statutory auditors first used process mining as part of their annual audit procedures, probably 2 or 3 years ago. During the presentation of the results, we immediately saw a huge potential for the usage in internal audits but of course also as a tool for supporting our global process managers and the lean management organization. It was quickly decided to run a pilot on process mining to evaluate the potential for the group.
While the global IT team selected a software vendor for our process mining pilot, I participated in the "Process Mining: Data Science in Action" online-course and was later able to join some data scientist training sessions by the software vendor eventually chosen for our pilot. After that, it was learning by doing and learning by sharing within our in-house community of process mining users.
Networks, graph theory, as well as Petri nets were already part of my studies in Karlsruhe but I never had an opportunity to use that in practice. So, in a way, it is really nice to now see how theory and practice fit together and how this helps me in my job 20 years later (the same is true for neural networks and the associated math by the way).
How do you use process mining in your organization?
For the company, we created a process mining team within our process excellence department. This team is responsible for setting up and running the process mining system. They are also the interface between the end users in the various departments and the internal data scientists and developers as well as counterparts at our software vendor.
Within corporate audit, our strategy is to reduce the time spent on auditing compliance with internal rules and regulations, and instead, in the future, go deeper on the largest risks facing the group. In order to enable this shift, we need to move into a more data-driven, automated, and permanent auditing approach. During the COVID-19 crisis, this approach, together with remote audits, has enabled us to perform most audits remotely and thus largely maintain our original audit-planning.
Within our audits, we use process mining to review processes before an audit and to identify deviations from the standard process flow. Conformance checking is an additional area where we believe a lot of potential can be found for our type of work, but this is still in a "we should definitely do this one day" state. In addition, we use analytics on the static ERP data and are moving into using machine learning within process mining for outlier detection.
One big advantage that we can leverage for our audit and analytics strategy is the single global SAP system that we are using, and which allows us to access all entities' data globally from our desks. Therefore, our need to integrate data from a disparate global system landscape before reporting or analysis is therefore reduced, which seems to be a common use-case for process mining systems in a lot of companies.
How do your counterparts (within or outside the firm) perceive and adopt process mining?
After the first limited pilot, which only covered two standard processes and was running with limited IT support during the global SAP migration to SAP S/4 HANA, we have now moved to trialling process mining across many different processes. This is now active at the headquarter and at various national sales organizations.
Business cases generated during these trials show some interesting potential. In areas where business cases are more difficult to calculate, teams are also excited by the improvements that help them move towards operational excellence. Interest in the organization is large as could be seen during a recent process mining week where project ideas from all different processes were demonstrated.
For example, our global logistics process team is currently redefining the KPIs around the cycle time and process information available within process mining. We are also using a standardized workshop approach to scan all production plants for improvement areas identified in the purchase-to-pay process. The workshops address the use of manual versus automated purchase orders (POs), root causes for changes in POs, blocked invoices, purchasing catalogue usage and other topics. Then, plant-specific improvement projects work on the largest identified areas of potential. In indirect procurement, to resolve blocked invoices more quickly, we have started to use the functionality of automatically sending emails to the operational buyer for quantity differences and to the strategic purchaser for price differences. Besides the potential to streamline the associated process, we are also hoping to improve our cash discount rate.
What is the major challenge while using process mining?
The biggest challenge has been to find the right balance between working with the general process view and being able to analyse detailed local process variants. We have realized that by extending our process models with process steps from adjacent processes (e.g., integrating master data changes into the purchase-to-pay process) as well as by moving into a task level of detail, the number of process variants tends to explode, resulting in a situation with far too many process variants to do any meaningful analysis. Our vision of being able to automatically identify outlier processes was somewhat thwarted by the complexity of the resulting process models. Deep system and process knowledge is needed to be able to slice and dice the results and to select the correct additional data fields to split the data into addressable buckets. However, the clearer a hypothesis can be formulated, the easier it becomes to set up the corresponding process model and to complement it with additional data fields to pinpoint any problems.
The second challenge that I see, mainly in the teams focused on process improvements, is integrating improvement project ideas generated from process mining into the existing process improvement roadmaps. Improvements that only use the additional transparency from process mining to improve existing processes can be implemented as quick wins, but any improvements requiring system changes have to compete for resources with other planned projects.
Process mining lends itself to exploratory analyses which generate a lot of small local improvement ideas. Often teams have been aware of these pain points before but have had difficulties showing that the benefits are sufficiently large to justify the effort of a global systems change. In general, this difficulty persists with global implementation projects with defined business cases always trumping local improvement initiatives and absorbing IT resources that would also be needed for the small projects. Where process mining can be used to better quantify business cases, smaller initiatives can also take the necessary process hurdles and drive operational excellence.
Jan, now tell us: What was your "ah-ha" moment when using process mining?
It was more a "finally!" than an "ah-ha!" moment when I realized how process mining makes use of the SAP changelog tables. They have been around forever, but have never really been accessible in any user-friendly way (except for providing change histories in a few transactions, like the vendor master changes). Once you start working with this – probably the largest – data table, there is such a treasure trove of information there that you immediately start dreaming about everything that now becomes possible.
And, to close being frank: How do you see process mining in the future?
I see process mining as one tool in the reporting and performance management system landscape where it needs to be integrated with the business warehouse, dashboarding, possibly robotics, and other analytics functions. In the ideal set-up, you would combine dashboards, process mining, and machine learning for advanced analyses to monitor performance and compliance of your business processes. In this setup, process mining adds the time sequence and duration dimensions to otherwise more static data and thus helps to connect the dots.
The big software vendors all seem to have realized this, and as a consequence software packages are getting more powerful and cover ever wider application areas. Now the options are to choose process mining tools with dashboarding and machine learning capabilities added in, or to select a dashboarding application that offers plug-ins for process mining and machine learning, or to pick a process automation tool that also offers process mining and machine learning extensions. For process mining, this means that outside of one-time analyses, there is limited future as a stand-alone tool but process mining applications need to fit into the overall analytics land-scape. As process mining integrates with business process automatization and robotics, the demands on release management, etc. will increase; tools will need to provide detailed access control, and need to fulfil the requirements for enterprise-grade applications.
For us in internal audit, process mining will work together with other analytics and reporting tools to deliver on the promise of permanent auditing to provide a higher level of assurance at lower costs.
Articles in this newsletter
Info about this article
This article has been updated on September 25 2020, 14:42.
An interview with Dr. Jan Felde